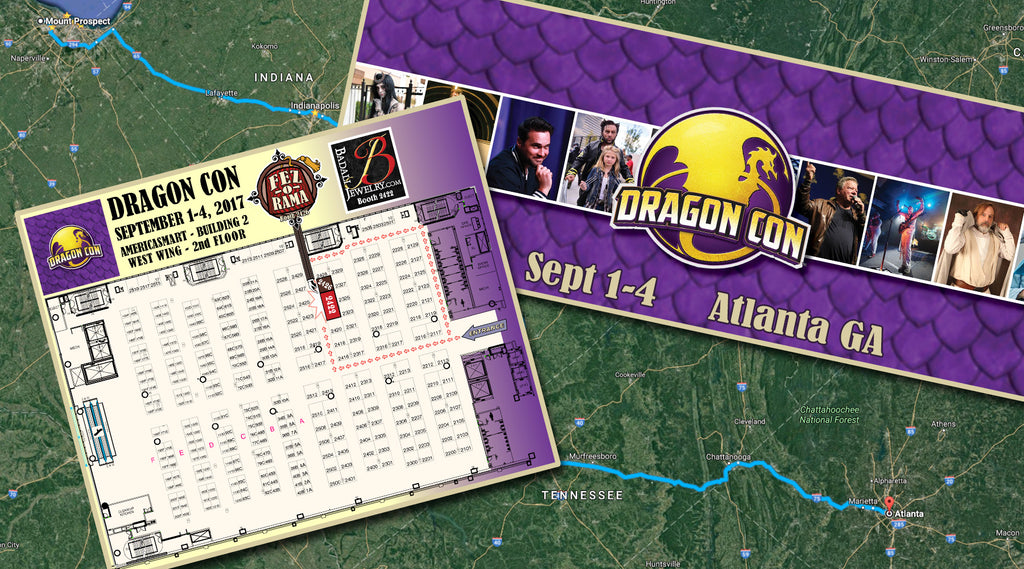 The Road to Dragon Con 2017
Part Two of our Con-mageddon 2017 Season Finale!
Last week we drove across the country the biggest show we have ever done: Gen Con 50. We've flown back to California for 5 days of frantic fez fabrication before jetting back to the Mid-West to meet back up with all of our stuff and part two of our road adventure.
Tuesday the 29th we drive from Chicago to Nashville, then on to Atlanta for four days of Dragon Con mayhem with 83,000 other pop-culture fans. Assuming we survive, we'll then get on the road for the long haul home.
Needless to say we will be out of the loop so expect some shipping delays on any orders placed before our return.
Our Limited Edition Design for Dragon Con!
The Loyal Lords of the Lagoon Fez
Join the esteemed fraternal order of semi-aquatic gentry with our latest limited edition design. Only 50 of this style have been made and are currently en-route to Atlanta GA for Dragon Con. Head to booth 2426 Sept 1st to get first dibs on this soon to be sold-out fez.

Since we've already received a number of inquiries about this design, we've set up a Wait List for the left over fezzes and to see if there is enough interest in creating and open edition of this design. Click here to fill out the form.
We'll also have a selection of our most popular designs like the Phoenix Fez and Chapeau, the Cthulhu Fez, as well as our latest design additions: the D20 Fez and Chapeau, and the Phlogiston Fez.

Find us and all of our wares on the 2nd floor of Americasmart in Booth 2426 right next to our friends Badali Jewelry.

---