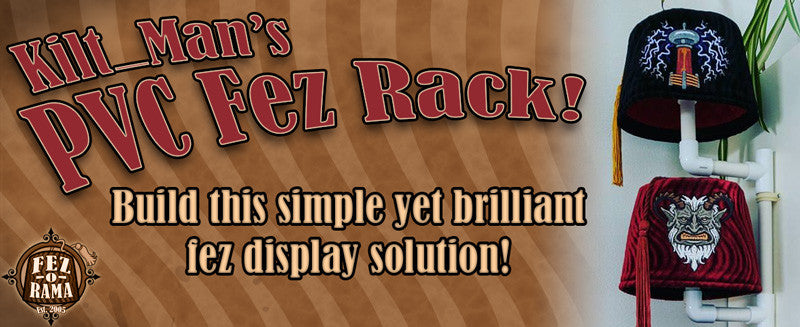 Kilt Man's PVC Fez Rack Build
Scrolling through my Instagram feed during the holiday weekend I came across this post from Doug featuring his hand-crafted solution for displaying his growing fez collection. I immediately asked if I could share this on the blog. It is such a simple yet brilliant solution and I love how he attached it to the side of the bookshelf in his office.
Doug was kind enough to not only allow us to share it, but he also did a write-up about the project so you could make your own PVC fez display.
So, a couple of years ago, I am on Facebook and the Cthulhu fez scrolls across my feed.
I needed one.Well, maybe need is a strong word, but wanted one very badly.
Cthulhu was my gateway fez.
I recently acquired my 6th fez, the Naughty or Nice.
I did realize awhile ago I needed not only a way to store my fezzes but also display them. They are honestly some of the finest clothing items I own. They are fun and great conversation starters. (need to work on the ear flaps for us cold weather folks)
I spent some time trying to come up with the best way to show them off. I was thinking a small set of shelves but that would take up a lot of room.
Then the idea of 1/2" PVC hit me. Easy to work with, inexpensive and versatile.
The only change I will make is removing the T fitting under the fezzes and using an actual coupling fitting.
I used 1/2" schedule 40 PVC. The small pieces are 3 5/8" long, the longer pieces are 7.5" long. I used Popsicle sticks for the platforms. (I might replace these with plastic discs at some point)
~Doug "Kilt Man" Johnson
Thank you Doug for sharing your creation! If any of you out there have come up with a creative solution for displaying your fez collection let us know. I love sharing this sort of stuff.
---
If you are looking for a bookshelf solution, checkout my write-up on turning a simple microphone stand into a fez stand
here
.
---