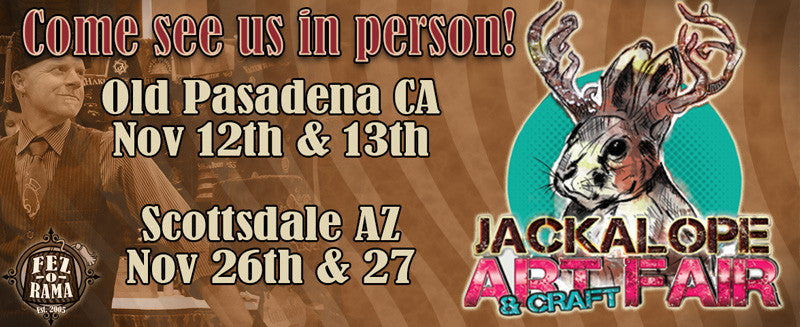 Jackalope Art Fair
November finds us venturing out of our studio to take part in the Jackalope Indie Artisan Market. We're doing two shows in two states!
 First up we have our local show in Pasadena CA
Date:
November 12th & 13th, 2016 - 10:00am to 5:00pm
Location: 
Central Park, Old Pasadena 275 S RAYMOND AVE, PASADENA CA 91105 This location is open to all ages and is handicap friendly
We'll be under our tiki canopy in the park and we're bringing a selection of our designs along with a few of our upcoming seasonal surprises! The big plus of this show is we'll be able to sleep in our own beds at night and restock fezzes if needed!
---
 Then after Thanksgiving we head to Scottsdale AZ Dates: November 26th & 27th, 2016 Fair Hours: 10:00am to 5:00pm Location:  The Hanger Tent at WestWorld of Scottsdale 16601 N Pima Rd, Scottsdale AZ
We're looking forward to seeing all of our Phoenix friends and we will be bringing some special stuff for the show!
Keep an eye on the social media and this blog as we unveil our plans in the weeks to come.
---