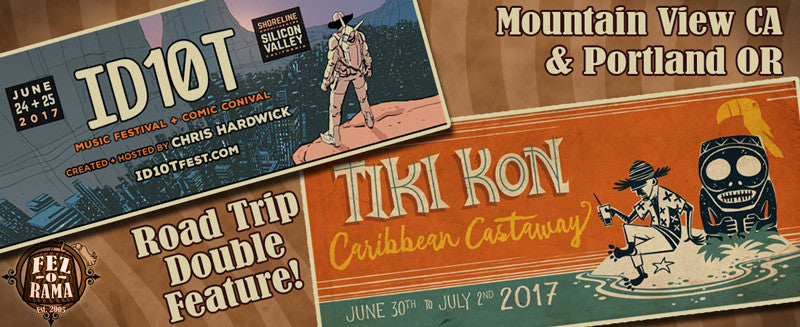 ID10T Fest & Tiki Kon! Back to back shows in June
We're wrapping up June with a trip to Portland for a Tiki weekender! So how do we kick it off? With a trip to Mountain View for a weekend at Chris Hardwick's ID10T of course.
That's right, we're ending June with back to back shows... you know, that thing I said I would never do again. At least this time they are both very interesting events with lots of live music! First up:
ID10T
 is a two-day music festival at the Shoreline Amphitheater June 24 + 25. Lots of live performances, panels and a comic con in an outdoor setting. I have no idea what we're getting into but we will be driving up on Friday to find out. This will be our first music festival and it will be great to get to see our friends in the Bay Area again after having such a good time in San José this Spring. It will be a slightly smaller than normal booth setup for us so we'll have a selection of most popular "comic con" designs. Look for us in Booth 103 right by the Festival Tent!
---
After our late-night load-out in the Silicon Valley we will spend Monday driving back home so we can spend Tuesday unpacking and re-packing because Wednesday we roll out for... 
We finally return to Portland for our only Tiki event on this year's schedule! We're really excited to get to see our Polynesian Pop friends and visit the great tiki palaces of Portland. We've been hard at work on new tiki inspired designs and lots of special surprises. The best part? Vending is only one long day and night on Saturday. The rest of the time we get to actually just focus on having a good time. It's been so long, I'm not sure if I know how to do that anymore. VIP and Deluxe passes are sold out but you can still get the Standard Weekend Pass over on the
Tiki Kon website
. After the show in Portland we will take a leisurely drive down the Oregon coast, visit friends in Central California on the 4th, and eventually get back home to begin the process of freaking out over the preparations for our next big show in August. I've been a little quiet on the interwebs lately partly because we've decided to rebuild the website from scratch and it has taken a little time for me to wrap my mind around what needs to get done in the next month. Getting out-of-town might be the right thing to do. If you can make it to either show let us know or simply swing by the booth and say
hi
.
See the rest of our 2017 Con schedule here!
---