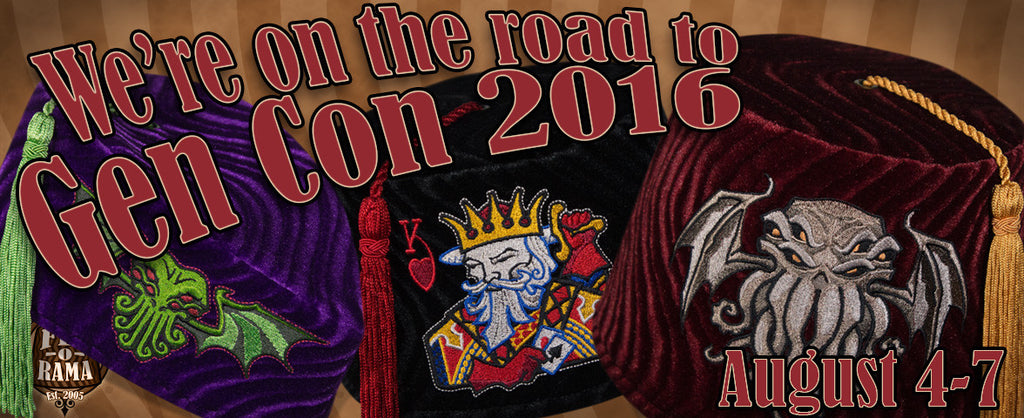 Gen Con 2016 ~ Preview

Once again we hit the road to Indianapolis for our biggest show of the year at Gen Con 2016!
August brings our fourth trip to "The best four days in gaming" and I can tell you that they are not overstating it. Game demos everywhere, tournaments, panels, costumes, and special events all night long.
The exhibit floor is bigger than ever and that means we've been moved to a new location. This year you will be able to find us in booth #371 right next to our good friends (and the makers of our bronze tassel pins) Badali Jewelry in booth #367.
We have a great time at this show and we're bringing some special stuff to mark the occasion, so let's get to the preview!
  NEW The 2016 Cthulhu Fez ~ Gen Con Edition
This is the big one for the show! A limited edition and début of our new Cthulhu design for 2016. Only a total of 50 of these will be made and each comes with a special edition pin. Since our fezzes are not "one-size-fits-all" we're holding a few of them back to be offered made-to-order on the website. We're bringing 42 fezzes in an array of sizes to the show and any that survive the weekend will be listed online once we return.
---
 NEW The Suicide King Fez
Our other new design début is our take on the classic self-skewering king of hearts imagery. I first teased the concept sketch for this over a year and a half ago and it has taken me this long to get this into thread. This festive low-profile fez is the perfect hat to wear for your next poker night or act of prestidigitation. We'll have a full range of sizes at the booth and this design will find its way to the website as soon as we return from Indiana.
---
The Crossbones Fez & Chapeau ~ on Black Velvet
A new version of our classic Crossbones design on the much requested black velvet. The original Crossbones on red velvet made its début way back in 2014 and it is time we brought out the black version. While this version will be first available at the Fez-o-rama booth next week, look for it to come to the website as well as future shows. By the way it's not too late to grab one of the Crossbones on red in our
Last Call
section of the website.
---
The Cthulhu Cthorps Chapeau ~ Elite Edition
Our Cthulhu Cthorps design gets the high-saturation color treatment with this insanely purple chapeau. This is one for those that aren't afraid of a little color. These will début on the con floor Thursday and look for them to be on the website the following week.
---
NEW Mandrill Tassel Pins
We're continuing to add new limited edition pins to our collection. The latest edition is the Mandrill. This is the same design that is available on our "Year of the Monkey" Mandrill fez and like our other enamel art pins, this one is a limited edition of 100. We'll also have our Mouse and Mimic Octopus pins that debuted a few months ago.
---
If you are attending the show, be sure to swing by the booth and say hi, and if you can't be there in person, look for updates on the social media. We get back August 9th and we'll do our best to get the website updated as soon as possible.
---