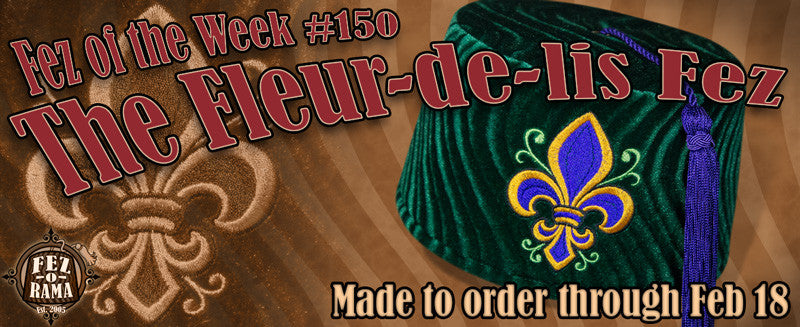 #150 The Fleur-de-lis on Green
Finally, our first Fez of the Week design for 2017!
It's been a rough start to the year but we are starting to get things back in the groove and while we prep for our first big show of the year, I think we can squeeze in a new Fez of the Week for all of you firing up your Mardi Gras celebrations.
It's been a few years since we did the Fleur-de-lis and we've gotten a number of requests by our friends down in New Orleans to bring it back for another round. This time we're doing it on our beautifully deep emerald-green velvet. The challenge was put forth to include all three of the Mardi Gras colors in the embroidery and as such it will work with either Gold, Purple or Green tassels... or get all three and braid them together. Trust me, you won't be the most outrageously dressed person on the parade route. These fezzes are available Made-to-Order through February 18th 2017. The first batch will be made this week and start shipping after the 20th.
---